I had another productive Saturday (and it's not even over yet!). I worked on blocks for the February
We Bee Learning
queen bee:
Christine
. She asked for wonky pinwheel blocks in green and aqua with accents of grey and yellow. We used a
tutorial
by
Greenleaf Goods
that was super easy to follow. At first I had a hard time getting into the blocks but once I figured out my rhythm they went quickly. I hope Christine likes them!
I liked making these so much that I jumped right into working on two mini quilts using the pattern adjusted to 2.5" foundation blocks instead of 3.5". One will be for me and one will be a gift for a friend who's always
'complaining'
about not having a quilt!
I also have to share this advice from Singer, circa 1949. Thank you to my sister-in-law for sharing it with me.
I laughed out loud when I read it! How many of us are guilty of sewing over doing dishes or laundry or cooking dinner (I'm guilty!). I also must confess that I didn't bother putting on real pants on Saturday... sweatpants for the win! Luckily my husband doesn't care if I'm a hot mess when he gets home, covered in thread and band-aids (because I changed my rotary cutter blade that day).
I did however, give up sewing time on Sunday night to clean our kitchen after we got out stove and fridge in! We've been without for quite a while, so I was pretty pumped!
I'm linking up with
Stitch by Stich
for
anything goes mondays
.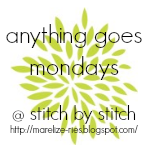 Happy Quilting, let me know if you find French Chalk!