I had such a productive sewing weekend! My husband just started a new job and was away most of the weekend so it freed up plenty of time for me to sit at my machine and jam to the music on the radio and just sew.... ahhhhhhh.........
I signed up for another round of
Sew Pieceful
, a monthly block sway on Flickr and got my assignments on Friday so I sewed up a test block and pulled some fabric for my February swap mates.
I decided to use the
Christmas Snowflake Block
posted earlier in January by the
Seattle Modern Quilt Guild
. They are doing a block of the month for 2014 and this was the modified 12" version they shared. The original is a scrappy 20" version. This person requested Red and Grey on Black or Text backgrounds.
I pulled rainbow colors for another swap mate to be put on a black background also:
Another swap mate asked for Purple, Yellow, and Orange on low volume backgrounds and I just happened to have this fabric I just picked up! Isn't it perfect for the background?
I've got more to share but it will have to wait until tomorrow! I'm linking up with
Stitch by Stich
for
anything goes mondays
.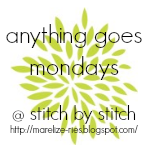 Happy Quilting!